ANGHEL SALIGNY
(1854-1925)
Romanian civil engineer and scientist. Professor at National School for Bridges and Roadways, and member of the Romanian Academy. He produced the lay-out for and realised in 1882 the construction of the railway bridges on the line between Adjud and Tg Ocna, and the double way viaduct and railway bridge on the Siret, at Cosmesti, to be the bridgework which made his reputation as civil engineer. He dedicated the years between 1884 and 1889 to constructing shipbuilding docks and warehouses in Galati and Braila.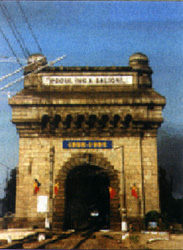 The originality of his solutions for these constructions should be remarked: fascine works and pile foundations for the embankment, the Danube connected basins for bins, and for the first time in the world , he made use of reinforced concrete to construct silos. His excellency work was the lay-out in 1888 and the construction between 1890 and 1895 of the bridge over the Danube at Cernavoda, which at the time of its being erected, was the longest in Europe.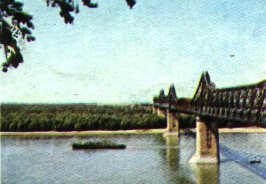 Saligny's lay-out for the bridgework was double innovative: a new projecting beam system for the bridge superstructure and the replacement of puddled iron by soft steel as building material for the bridge planks. He directed the Constanta harbour set up activities, being the first in Romania who used reinforced steel piles and foundation rafts for harbour constructions and who produced lay -outs for silos and oil stations.
Saligny's construction works also included the Tg Jiu-Filiasi railway, the railway tunnel on the Mostistea Valley, the Ramadan harbour (Giurgiu), etc. From 1907 to 1916 he was President of the Romanian Academy.